Our Commitment to
Creating Excellent Shutters
At Kirtz® Shutters, you don't become just a name or number in an isolated customer service department. All your questions and concerns are handled directly by the same consultant who helped you place your custom shutter order. Our relationship-focused service helps ensure that you receive a speedy solution from the person who best understands your needs.
From answering questions about the best way to care for your custom shutters to fine-tuning the tension in your louvers, we are ready to help.
We are dedicated to being the premier manufacturer of the world's finest hardwood shutters.
Our customers are excited to be part of the Kirtz® experience. This is achieved through our relentless focus on heirloom quality plantation shutters, innovation, and our responsiveness to customers' wants and market needs.
Working with the widest variety of the world's finest hardwoods, Kirtz® artisans are personally involved in creating visually balanced and aesthetically pleasing plantation shutters."
The Shutter Mill Inc. warrants to the original retail purchaser that Kirtz® Shutters, if properly installed, will be free from defects in workmanship, construction, and materials other than those caused by normal wear and tear, for a lifetime. This warranty does not include any conditions or damages resulting from accidents, alterations, misuse, abuse, exposure to the elements, fire, flood, improper maintenance, or acts of God.
This warranty applies only to Kirtz® Shutters that were manufactured within the specification guidelines established by The Shutter Mill Inc. and in effect at the time of manufacturing. Products manufactured outside of these specifications or otherwise specifically excluded are not warranted.
All finishes can change over time if exposed to ultraviolet rays (sunlight). Excessive or prolonged exposure to moisture may also cause a finish to fail. As such, this warranty does not apply in these situations.
Shutters that have been bought unfinished become the responsibility of the purchaser and must be painted or finished within fifteen days from the date of shipping. Unfinished shutters must be painted or finished on all exposed areas of the shutter. Failure to comply with the aforementioned condition would result in a void of the warranty by the purchaser.
Prior approval for warranty service is required. Upon return of the product to our manufacturing facility, at the expense of the purchaser, repairs will be made with like or similar components. No warranty is expressed or implied for transportation or freight costs, labor charges, or other incidental costs. This warranty does not imply the automatic replacement of any product. Shutter Mill Inc. reserves the right to repair or replace any product at its discretion. Shutter Mill Inc. reserves the right to refund the wholesale purchase price in lieu of repair or replacement.
Shutter Mill Inc. provides no warranties other than as expressly stated herein. Shutter Mill Inc. disclaims any and all warranties of any other kind, expressed or implied.
Care and Cleaning of Kirtz® Shutters
Regular dusting with a soft cloth rag or disposable dusting cloth is the recommended method for maintaining your Kirtz® Shutter. For a deeper clean, add a small amount of mild liquid dish soap to a bucket of warm water. Slightly dampen a soft cloth with the solution and wipe the shutters clean.
The Shutter Mill Inc. does not recommend the use of any oil-based cleaning products or polishes on the Kirtz® Shutter.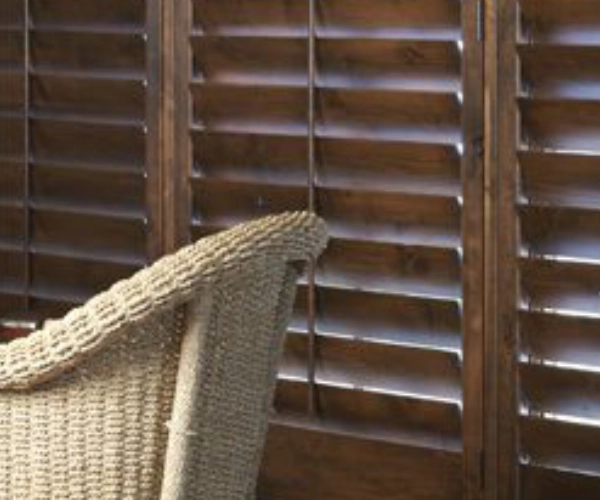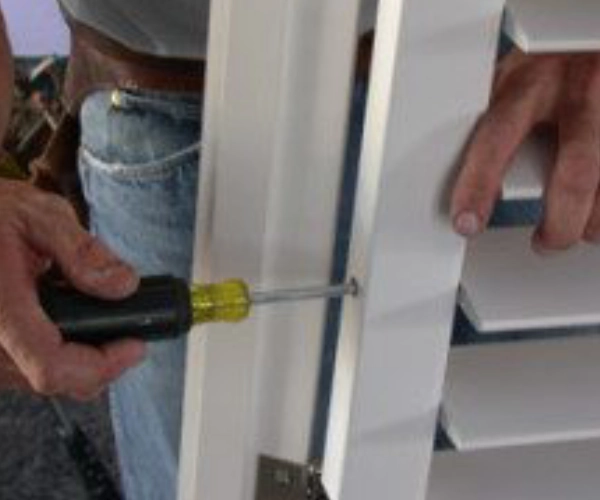 Each Kirtz® Shutter is equipped with tension screws, which allow you to adjust the level of force necessary to open and close the louvers. If, over time, louvers do not stay set where you position them, use the following steps to adjust tension.
Locate tension screw holes on the outside of the stile (vertical side member) of the shutter panel. There are one or more holes, depending on shutter height, on each side of the shutter panel.
Insert a Phillips head screwdriver into the hole and turn clockwise slightly to increase tension or counterclockwise to loosen tension. Be sure to do this on both sides of the panel.
If this method does not address your concern, please contact your salesperson for additional information.
Kirtz® the shutter by which all others will be measured.